Our
Services
From Heavy-Duty Towing to Roadside Service Lynn Hope Towing is here to help.
About
Us
Lynn Hope Towing LLC was started by owner/operator Lynn Hope in
2001. It remains a family owned and operated business. Primarily through word-of-mouth appreciation and recommendation for the companys' fast, dependable and professional 24-hour service, the business grew from two trucks to its current seven-truck operation offering light- to heavy-duty towing and recovery services and more.
Lynn Hope Towing LLC is a Greeneville Sun People's Choice winner in the Best Business category, and provides service for the Greeneville area city county and state law enforcement agencies as well as many local automotive dealerships, body shops, garages and private accounts.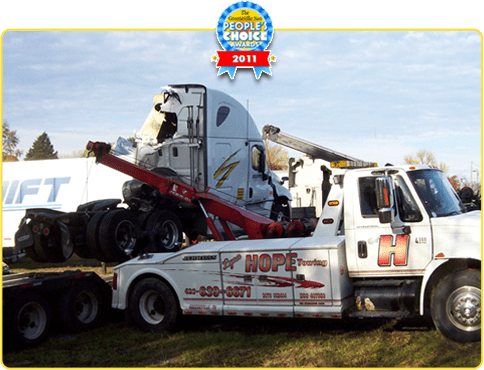 Lynn Hope Customers Tell The Story
At Lynn Hope Towing, our goal is 100% customer satisfaction. We ask each one of our customers for feedback and read every response. Doing so allows us to closely monitor operations while constantly improving the quality of our service.
Please take a moment to read through some of our feedback from the past few days…
Lynn Hope towingReviews
Guardian Towing - Seattle
"
Good service!!! Excellent!!!!!
"
Mohamed did a great job helped me out a lot
"
Diante was an outstanding tow truck driver. He was an excellent communicator and was so extremely thoughtful, kind, professional, and helpful. He explained things very well and went the extra mile to make sure we were safe, sound, and with ideal options to get safely home. I highly recommend him and Guardian Towing. The company communicated extremely well too with the utmost care.
"
Mohamed was helpful and courteous - made a bad experience better - we really appreciated his help!
"
Mohammed was super nice, compassionate, and professional while attending to my car accident that had to be towed. In a stressful, adrenaline filled situation, he was a delight to meet and to work with. Thanks Mohammed! I know my car is in good hands.
"
I recently had the stressful experience of needing to get my car towed, but thanks to Zak and the tow truck company (Guardian Towing) he works for, the entire process went incredibly smoothly. I can't praise Zak enough for his exceptional service. From the moment he arrived, it was clear that Zak was not only skilled at what he does but also incredibly humble and professional. He took the time to explain the towing process to me, which helped alleviate some of my anxiety. His attention to detail was impres...
"
Mohamed from Guardian service helped me tow my car. Great guy very helpful. Awesome service.
"
Mohamed was extremely helpful with towing my car after an accident. He promptly arrived afterwards which was a welcomed relief after a troublesome day. Highly recommend his services if you're ever in the need of a tow truck.
"
Mohamed was the one who came to tow my car. He was able to effectively communicate with me and was very efficient at his job. He was also very friendly. He was great!
"
Worked around a changed pick up location, driver was very patient and helpful, exactly what was needed.
"
The guy gives me a very professional service. Thank you for your great help
"
Mohammad was very fast and friendly. Super service!
"
Great service! Mohammad was so nice to work with. I haven't ever had my car towed and figured it was going to be a hassle, but he was so nice to me and did a great job communicating with me when I could expect him to show up and where he was at. He handled everything with care and was friendly even though it was dark and cold and pouring out. Much appreciated and would absolutely recommend!
"
Mohammed was excellent and very helpful. Service was fast. Would recommend.
"
Mohammad was a great tow truck operator. He was efficient and kind regarding the situation.
"
Mohammad, my tow truck driver arrived promptly and called to confirm my location. He was helpful in dropping my car off at my service station.
"
Mohamed was great driver. Late night tow back to my house after an accident. He turned off tow truck bright flashing lights when he arrived (as I asked) as not to disturb neighbors. Dropped off car and was very courteous even during his busy rainy night.
"
Mohamed was amazing! He was so helpful and even covered my broken window for me. Highly recommend.
"
Answered right away, gave me a quote, and was there quickly in 20 minutes. Thank you for helping my brother out.
"
They arrived quickly. The staff members were super helpful and getting my car ready to tow. Plus, they gave me lots of helpful information about car repairs. I would use them again and highly recommend them to everybody. They made a difficult day far far more pleasant.
"
Mohamed was friendly, and provided quick, efficient service.
"
Best towing company on GOOGLE highly rated 5 stars from me.
"
Thank you Mohamed! Super helpful and kind
"
Great service and open lines of communication
"
Last night was such a crazy busy night for Mohammed and he was just super pleasant and couldn't have been more professional.
"
Great experience. Very friendly and thoroughly driver.
"
My towing experience was fast, efficient, and professional.
"
Zack was great! Very professional, courteous, and helpful as I dealt with just having been in an accident.
"
My car was stolen and I called Gaurdian when it was recovered to bring home. Mohammed was great. Fast and friendly.
"
Mohamed was incredibly friendly, sweet, and very professional!
"
Mohamed is very helpful. Working very late to save me. Great job!
"
5 stars not enough for them, I had a very special experience with the team. One raining day, I lost control and hit hard a barrier, my car got totaled. Jack towed my car, I didn't have full covered insurance, and I was in a shock, need help and advises. He worried me like my brother, and Lela in the office, she called to my insurance agent and debated why it isn't covered like my sister, and Yasser (the boss!) calmed me down and even said "no worries, I will take care". What angelic ppl they are! They are a...
"
Car broke down in 5, Mohammad showed up really quickly, loaded car professionally, drove me to my Mechanic. Hope not to have to, but would use again
"
Mohammed was very professional and on time!
"
Very helpful Heleandro helped us. Thank you!
"
Exceptional service! I felt like I was valued the entire time and would recommend Guardian to anyone in a time if need.
"
My suburban's starter went out at the worst time. I called Guardian expecting an expensive hassle. I was pleasantly surprised. Knowledgeable, friendly staff made a bad situation as pleasant as possible. I recommend calling Guardian if you find yourself in my shoes. You won't regret it.
"
Driver have very Good communication and humble I like him
"
Professional, polite, prompt.
"
Mohamed was a great. Moved my car expertly and arrived within the quoted time. He was very professional and knowledgeable.
"
Mohamed is a world class tower, doesn't speak much English, doesn't matter. Gets the job done in a courteous and respectful manner. If the boss is reading this, give him a damn bonus 👍
"
Incredibly helpful, knowledgable and got my car out of a difficult situation. Much appreciated.
"
Mohamed went above and beyond to tow my car from my old and residence to my new one. Very professional and waited an hour since I forgot the key at home. Highly recommend Guardian Towing, especially Mohamed.
"
My friends and I worked with Mohamed to tow a car, and he was both incredibly helpful and incredibly understanding of the situation. He even waited while we fetched car keys that we had forgotten, and helped us get access to the vehicle. 10/10- thanks Mohamed!
"
Mohamed. Very nice. Very helpful. Took good care of the car and got to where it needed to go.
"
Fast service. Expert driver. Even showed us a temporary fix to get the car into gear.
"
The staff is very patient and nice. Seems like they really care about the customers.
"
Car broke down while my teen was driving. I called Guardian - they quoted me 90 minutes but got there in 30. Towed my car to dealer. Handed it off no fuss no muss. I Payed by phone via credit card. I never left my house. Thank you helping take care of a potentially stressful situation quickly and efficiently and with minimal disruption to my work day.
Disclosure
The reviews displayed may or may not be a complete set. Reviews may be removed if they:
i. Are abusive. An abusive review or comment is one that makes personal attacks, threatens, or harasses others, or uses profanity.
ii. Violate privacy. Reviews that mention specific names of individuals or personal information in a manner that is inappropriate and/or unrelated to the performance of the service rendered are subject to removal.
iii. Are not from a current customer.
iv. Contain material falsehoods.
v. Are deemed inappropriate.
To encourage all feedback, positive or otherwise, an equal incentive for reviews, regardless of rating, may have been provided to the reviewer.
Google reviews provided via APIs https://www.google.com/+/policy/embedded-content.html
Contact Us
Questions ? Need a Tow? Give us a call!
207 Seaton Ave,Greeneville, Tennessee 37743
(423) 639 – 6671
hopetowing@hotmail.com