Our
Services
From Heavy-Duty Towing to Roadside Service Lynn Hope Towing is here to help.
About
Us
Lynn Hope Towing LLC was started by owner/operator Lynn Hope in
2001. It remains a family owned and operated business. Primarily through word-of-mouth appreciation and recommendation for the companys' fast, dependable and professional 24-hour service, the business grew from two trucks to its current seven-truck operation offering light- to heavy-duty towing and recovery services and more.
Lynn Hope Towing LLC is a Greeneville Sun People's Choice winner in the Best Business category, and provides service for the Greeneville area city county and state law enforcement agencies as well as many local automotive dealerships, body shops, garages and private accounts.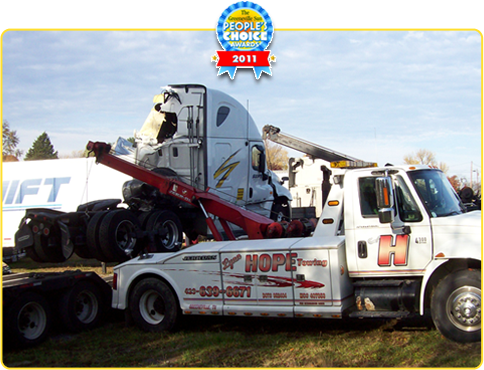 Lynn Hope Customers Tell The Story
At Lynn Hope Towing, our goal is 100% customer satisfaction. We ask each one of our customers for feedback and read every response. Doing so allows us to closely monitor operations while constantly improving the quality of our service.
Please take a moment to read through some of our feedback from the past few days…
Lynn Hope towingReviews
Guardian Towing - Seattle
"
I had William help tow my 02 honda civic to the locksmith after I lost my keys.. he was professional and friendly, I would highly reccomend!!
"
William was professional and polite. He helped me to learn more about my car. I would recommend William to anyone.
"
William was very awesome
"
Waleed was the person who helped me out with my flat tire issue, he came in very fast, 20 minutes faster than the ETA showing on my phone. for my towing service, he was nice and knows what he does. he was very careful with my car as well. Thank you!
"
Had a scary blown tire on the freeway in the snow and wasn't sure who to call. Super stressful. Thankfully called Guardian just due to the Yelp reviews and was extremely lucky to Ant show up as a driver. He was super fast, got me sorted and was really nice. Whole ordeal was very fast considering the weather and being on the freeway. Seriously, ask for Ant. May now matter but he's The Man.
"
When my 2006 F250 slid in the snow and hit a pole, William came out to tow my truck. He was very professional and very efficient in getting my truck onto his flat bed and out of the snow. If I ever need a tow again, I will call Guardian Towing!!!!
"
Vehicle involved in a collision. These guys were great. Personable, customer service oriented. My driver was the best. I would certainly call them again!
"
My tow driver William, went above and beyond with his service provided. I thought it was just a battery issue with my vehicle and it turns out to be an expanded issue. My tow driver was fully prepared to assist and was very knowledgeably on my needs and gave great recommendations. Thanks for the great service!
"
Willam was a very professional driver who did an outstanding job, could have have done it any better.
"
White glove service. Multiple touch points to ensure I knew where the car was at all times. Highly recommend.
"
They kept me informed of when they would arrive and were very pleasant.
Jan 13, 2021,
Gabrielle D.
"
Craig from Guardian Towing was so helpful and kind despite having to wait in the rain and work with the Naval Base to get an escort off of federal property. He did everything the correct way and made it effortless and was so kind! Thankful that they were willing to help me out despite the traffic and hiccups with trying to get the car out of the lot.
"
Zak and Ahmed were quick, professional and friendly. Great people.
Jan 11, 2021,
Samantha D.
"
Today Ant really saved the day. My car was parked in a tiny parking garage and I couldn't even get it to the tow truck. He jumped it for me and got it out of there and onto the truck, and even checked the car out for me. He was so friendly, kind, and helpful. I would highly recommend!!!
"
My car had just been crunched by some lady and as I was finishing up filing a claim the tow company called and said the tow truck should arrive in 15 mins. William came to the rescue less than 8 mins later and the first thing he asked me was if I was alright. After making sure I was okay he gave me a quick overview of what would happen next and then said he would meet me where my car was being towed (my roommate came to pick me up cause we are in a pandemic) he was there less than 5 mins after we got there....
"
Great! I kept getting messages from my insurance that I could not ride with the tow truck driver because of Covid-19. I had no one to pick me up and no uber app. The driver allowed me to ride in his cab with a mask on. THANK YOU
"
The tow truck driver's name was Happy and he was very pleasant and professional. His concern for my needs was extremely nice.
"
They came and towed my van (with four flat tires). They gave me a quote, and stuck to it. The gentleman that responded was professional and speedy. Originally they said it might take up to two hours to get to me (it was from my home, not an emergency tow), was here in 30 minutes.
"
Very professional. I live on a steep hill and car in a parking garage. Brian was able to navigate all that and get my car towed. I was. A very tired anxious customer that he dealt with very professional! Thank you Brian
Dec 25, 2020,
Shepherd S.
"
My towing helper, Brian Evans is the name I recall, was absolutely professional, friendly, on time, and of course compassionate to a person in need. And he knows his trade. He's a good person with the essential skills I was counting on!
"
Had a great experience with Guardian Towing. They are fast and reliable. William came out, today, and was super amazing. I definitely will reach out to Guardian Towing should I need a tow again!!
"
William came and got me going in less than 30 minutes after contacting him. He's giving me tips on preventing mishaps with my Prius.
"
Service was awesome. Will definitely call these guys next time.
"
After the tow I requested in the morning didn't show, I requested assistance from Guardian Towing. They came quickly and were excellent at communicating with me over the phone. William arrived and got to work. He was very kind and professional. I have never had a tow service work so efficiently and respectfully!
"
William was very professional
Dec 17, 2020,
John-Michael S.
"
I believe William picked up my car to take her to the mechanic. He did an excellent job on picking up and dropping off considering how my car was sitting in my drive. He didn't damage the neighbor's yard or my car, and my car is somewhat low for stock suspension. Excellent dude who knew what he was doing. Would recommend 👌
"
Guardian Towing was an absolute life saver for me when I was stuck with 2 flat tires on my way in to work this morning. It was dark and raining and I had been stuck for several hours due to issues with my insurance company facilitating my request for roadside assistance. When Sam at Guardian called he could tell I was very upset and sent someone right away to help. He even offered to stay on the phone with me until the driver arrived because I was very shaken up. The driver arrived quickly and was very kind...
"
Car broke down and William came and gave us a tow. Great service. All 4 were locked up and he did an amazing job getting our car on and off loaded at the jeep dealership.
"
William and his awesome flatbed were perfect
"
Guardian Towing rescued me when my car broke down in Poulsbo. The driver William was very professional, took great care of my vehicle, gave me a ride and was great conversation. I reccomend this towing company for service in North Kitsap and area. They were on site within 20 mins of call. Thanks for a great job William and good to meet you!!!
"
My car needed to be moved before it was taken and impounded. Antee Gravette came and moved my car, but i couldnt put my car into neutral, so Antee found a solution to get it onto the flatbed truck. He was soooo helpful, kind, and sympathetic to my situation. He gave me a lot of good advice, and i was happy he was the one to help tow/move my car. He was super gentle with it, since he couldnt let the back wheels roll. He put something under my tires so that it wouldnt mess up my transmission. He tried everyth...
"
William was very helpful and was accomadating to my baby to keep her safe and warm during these cold months. He was able to bring my vehicle onto base without any hassle.
"
Kevin is the man. Two different tow companies bailed on me but he came through. 10/10 would recommend.
"
William was very fast and very nice
"
William did a great job and was very friendly.
"
Had a great experience with these guys. I want to say his name was Will. I'm not good with names. He had a pretty nice beard and an earing in his right ear. Ford fan. His brother is a dodge guy. Helped me put my truck exactly where I wanted it. Would use again. Thanks!
"
William came and he was very kind, got me to where I needed to go safely. Very professional. Would recommend to anyone.
"
William was recently dispatched to me and my stranded vehicle. William promptly showed up and had my vehicle loaded in minutes . Once loaded William shared funny stories of towing while we waited for my ride. Thanks William for helping me make the best of a normally unenjoyable situation.
"
had gaurdian towing pick up my yukon and deliver to my house in poulsbo and the driver William was awesome!! he was even able to get it into my driveway which my wife has a hard time doing sometime 🤣 Thanks William!!!
"
William was a big help and a very nice guy.
"
Thank you Guardian Towing, but especially Alex, for turning a difficult situation into a pleasant one! Great service and wonderful people!
"
William came to haul our car to the garage for dead battery and some other electrical issues. He picked it up from where it died outside the emergency vet clinic in Silverdale while we were waiting for our sick cat to be treated by the staff there. He was professional and courteous, and made sure that we had a ride available to us before he left with our vehicle. 5 Stars.
"
William did an awesome job towing my truck. Super nice, polite and professional. Highly recommend this company.
"
William was on-time, professional and made my towing experience a great one. We highly recommend this business and him, personally! Thank you for great customer service!
"
Giving William 5 stars for his excellent service today 12/4/2020 and ability to tow my car out of a small spot.
"
William was awesome. Made it an easy day.
"
Tow was arranged by my insurance roadside assistance after we were rear ended. Quick and communicative. A completely different experience than I had with another tow company just 3 days later also arranged by insurance. The driver was friendly and fast. I appreciate the work and customer service.
Dec 2, 2020,
Christopher S.
"
William was super professional, competent, and accommodating. I would recommend him and this company everytime! Thank you !!
"
Everyone from the lady on the phone to the man who towed my car was awesome. Great team of people.
Powered by
Whiterail
Disclosure
The reviews displayed may or may not be a complete set. Reviews may be removed if they:
i. Are abusive. An abusive review or comment is one that makes personal attacks, threatens, or harasses others, or uses profanity.
ii. Violate privacy. Reviews that mention specific names of individuals or personal information in a manner that is inappropriate and/or unrelated to the performance of the service rendered are subject to removal.
iii. Are not from a current customer.
iv. Contain material falsehoods.
v. Are deemed inappropriate.
To encourage all feedback, positive or otherwise, an equal incentive for reviews, regardless of rating, may have been provided to the reviewer.
Google reviews provided via APIs https://www.google.com/+/policy/embedded-content.html
Contact Us
Questions ? Need a Tow? Give us a call!
207 Seaton Ave,Greeneville, Tennessee 37743
(423) 639 – 6671
hopetowing@hotmail.com